Solar Panels on City Hall
06/24/13 | by
dan
| Categories:
culture/news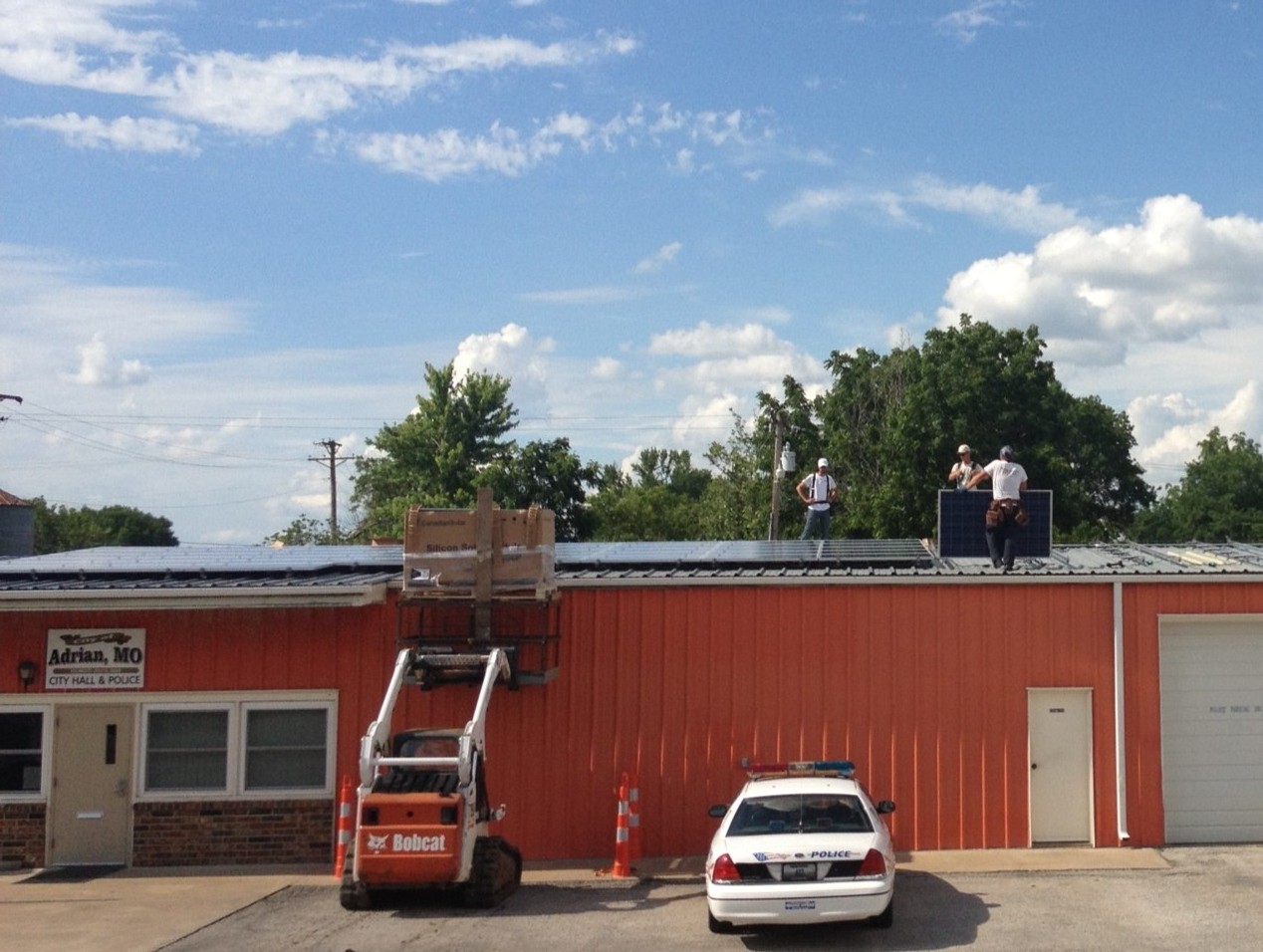 Last week the City of Adrian had an 20 kW array of solar panels installed on city hall. I had a few reasons for adding this project to the City's agenda. Fossil fuels won't last forever. That's why they're called nonrenewable energy. As they dwindle, their prices will go up. Fossil fuel companies are already reaching for more costly and difficult sources, like the tar sands in Alberta, Canada which are now being piped through our community and putting our water supply at risk. The transition away from coal and oil won't happen overnight, but it will happen eventually. I think local government should be a leader when it comes to adopting tomorrow's technology. Pollution and climate change may not seem like urgent issues in our little town, but we can still play a role in making a better world for our children and grandchildren. But the thing that really convinced our city council to act was the financial angle.
The solar panels on City Hall are an investment that will show an impressive return. After the rebate from Kansas City Power & Light, this will only cost the city $14,500. Over the lifetime of the panels they will generate more than $100,000 worth of electricity.
In 2008, Missouri voters overwhelming approved the Clean Energy Initiative, which requires power companies to get 15% of their electricity from renewable sources by 2021. KCP&L created a rebate program to help them reach this goal. As soon as our panels are operational, the utility will send us a check for $41,500, which is 74% of the project's total cost of $56,000.
KCP&L will also install a net meter. Like a regular meter, a net meter tells KCP&L how much power they're selling to us, but it also runs in the opposite direction so that they can credit our account when our panels are generating more power than we are using. In the past, City Hall has had electric bills around $340 per month. With the electricity we get from the sun, our bill will drop to nearly zero most months. The solar panels will pay for themselves in around five years, then they will provide us with free energy for another 15 or 20 years.
The City of Adrian is not alone in taking advantage of this opportunity. Citizens Bank has installed solar panels at several locations, including their Adrian branch. Last month, the City of Butler broke ground on what will be one of the largest solar plants in the midwest. The installer that Adrian hired, Roof Power Solar, is based in Rich Hill and has done projects on businesses and homes in Cass, Bates and Vernon Counties. The City of Adrian has other buildings that could be powered by future solar projects, including our public works building and our water plant.

1 comment
First!