Immigration and Thanksgiving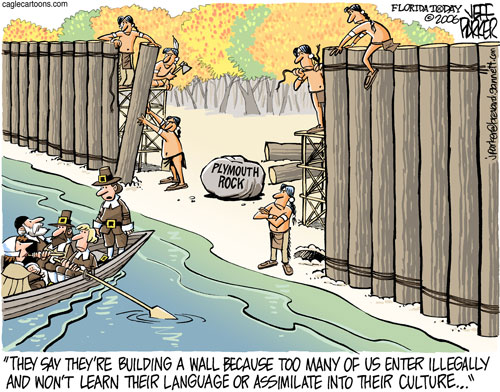 (via TruthDig)
7 comments
That's the truth. They were here first
I love that cartoon…thank you so much for posting it. I am going to steel it and post it to my blog if you don't mind.
The main problem is, all y'all spoke english when you arrived … you shoulda known they'd speak american :|
¥
Maybe the meek did inherit the Earth. We'll never know, since conquerors pretty much run things (everywhere) now.
LOL - you hotlinking leech! (All I see of the image now is "stop hotlining. host the image on your server").
I like how the cartoon lampoons American immigration policy.
I particularly like how it ironically supports American immigration policy. (Shoulda built that wall!)
That's funny as hell…..true American History is totally shocking. Those early guys just took shit, maybe there is something to be learned here……
Comments are closed for this post.