Before you forward that email
02/15/09 | by
dan
| Categories:
culture/news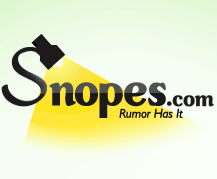 If you get an email forward that seems too amazing, frightening, sad or heartwarming to be true, it probably is. Before you hit that button to forward the message to your friends, take 60 seconds and type the subject line into Google. You can also throw in a word like "snopes," "hoax" or "chain letter." There's a good chance that the story in the email was made up and you don't want to forward a story that claims to be true but isn't, do you?
There are several sites dedicated to debunking fictional chain letters and other internet rumors. If you run a Google search about the email, one of these sites is often the number one result.
Don't believe everything you read.

2 comments
I just got one about McDonald's buying beef from South America, and the repercussions of that choice. I was fully ready to believe it, because we Americans are famous for trying to pay less for a product at any cost…but it wasn't true. I will be glad to allow my girls to continue to enjoy their favorite restaurant (well, as long as I don't have to eat there). I found out that info on snopes. Thanks for posting this.
amen!